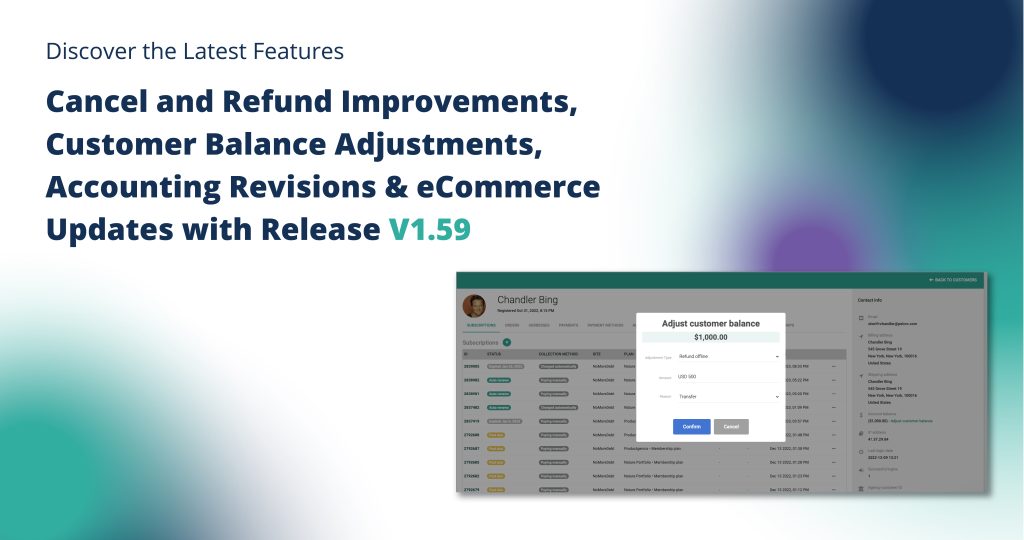 Cancellations and refunds are a necessary part of doing business, but they can often be a source of frustration for both customers and companies. Pelcro is committed to improving how cancellations and refunds behave, so that you have better experiences with their interactions when dealing with cancellations and refunds. This is only the tip of the iceberg for this release, so let's get into it.
Cancellations & Refunds Improvements
We've revisited the cancellations and refunds interface so that you have more granular control over the following:
Refund destination: controlling whether you're refunding directly to customer's credit card, account balance, or alternatively, as an offline refund.
Refund type: you will get the option to either refund in full, on a prorated basis, or a partial amount. This depends on whether you are cancelling the associated subscription or not.
Refund reasons: the list of preset refund reasons has been populated with more options: "Non sufficient funds", "Credit card chargeback", and "Transfer" to assist with additional refund contexts.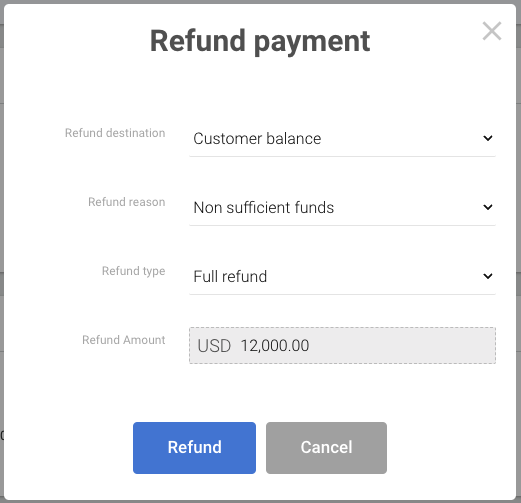 We've also improved how your refunds are managed through the platform. Offline refunds will now be first credited to the customer balance, and will remain on the system under "pending" status, until they have been approved by you. This ensures that your finances are tracked accurately throughout the system until the actual refund has been issued to your respective customers either through check, cash, or otherwise.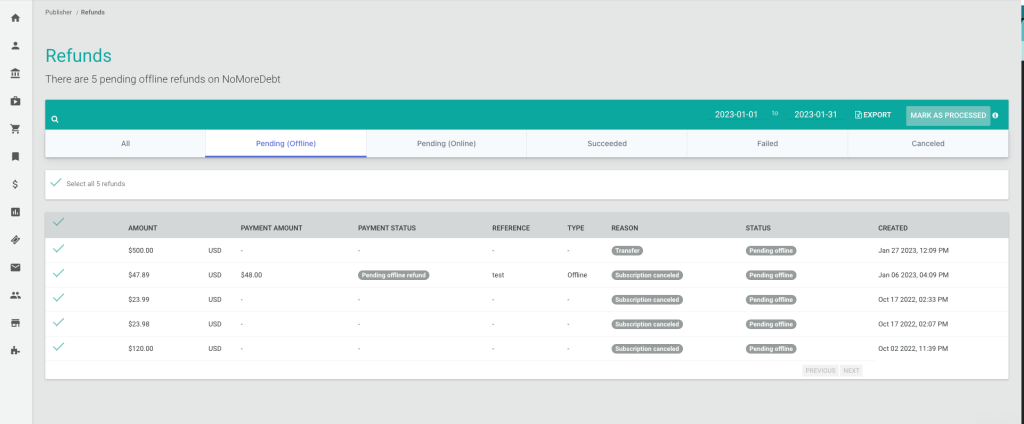 This will also include offline refunds which have been issued back to the customer as a result of subscription cancellation. You'll be able to either selectively process your pending offline refunds either one at a time, or in bulk. This gives you more control of tracking refunds which were issued, without additional hassle. You'll now see two separate sections which separate pending online & offline refunds. Pending online refunds are tied to your payment gateway processing status, whereas pending offline refunds are controlled by you.

Adjusting Customer Account Balance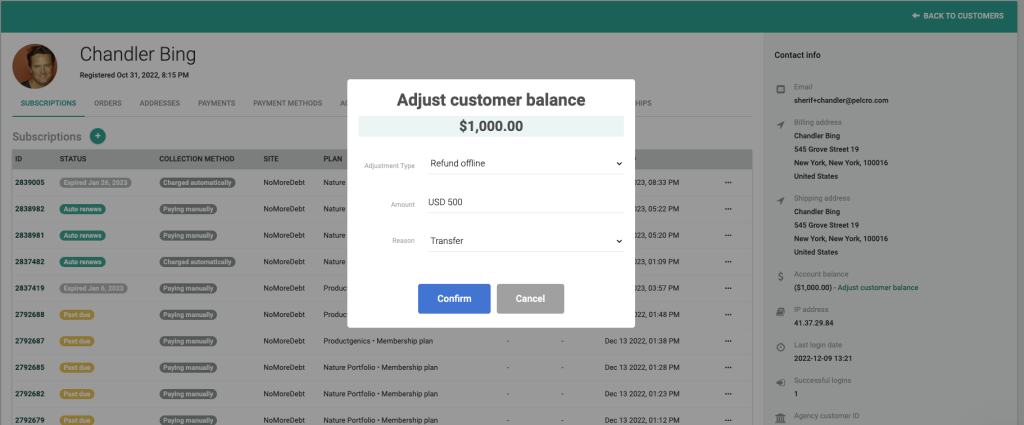 We now provide you with the ability to refund your customers' account balance back to your customers as an offline payment. This ensures that you have more flexibility to ensure your customers are not overspending and helps them stay within budget. The refund process is simple and straightforward, allowing customers to receive the money quickly without any hassle.

Payments which have been made directly to the customer account balance can now only be reverted back to the customer if the customer account balance allows it. This restriction also ensures that you mitigate any financial liabilities in case the customer account balance has been consumed for a different transaction.

Accounting Revisions

Bookkeeping is essential for any business to succeed, and Pelcro is no exception. It's important to keep track of all transactions, as well as accuracy in revenue generation. With this release, we're introducing a number of changes to how our accounting module works, so that your finance teams can easily monitor and ensure that your money is being handled properly.
All refunds for payments made against invoices are now tracked through corresponding credit notes. Credit notes will help your business ensure that the correct amount of money is being refunded to customers. This will be the case for refunds associated with cancellations and without. Refunds for payments made against the customer balance will not have an associated credit note.

Invoice/Credit Note PDF Adjustments
Modifications were done for the Invoice and credit note PDFs to provide you with more consistent details for invoicing purposes, meet regulatory requirements, and be able to have correct invoice references.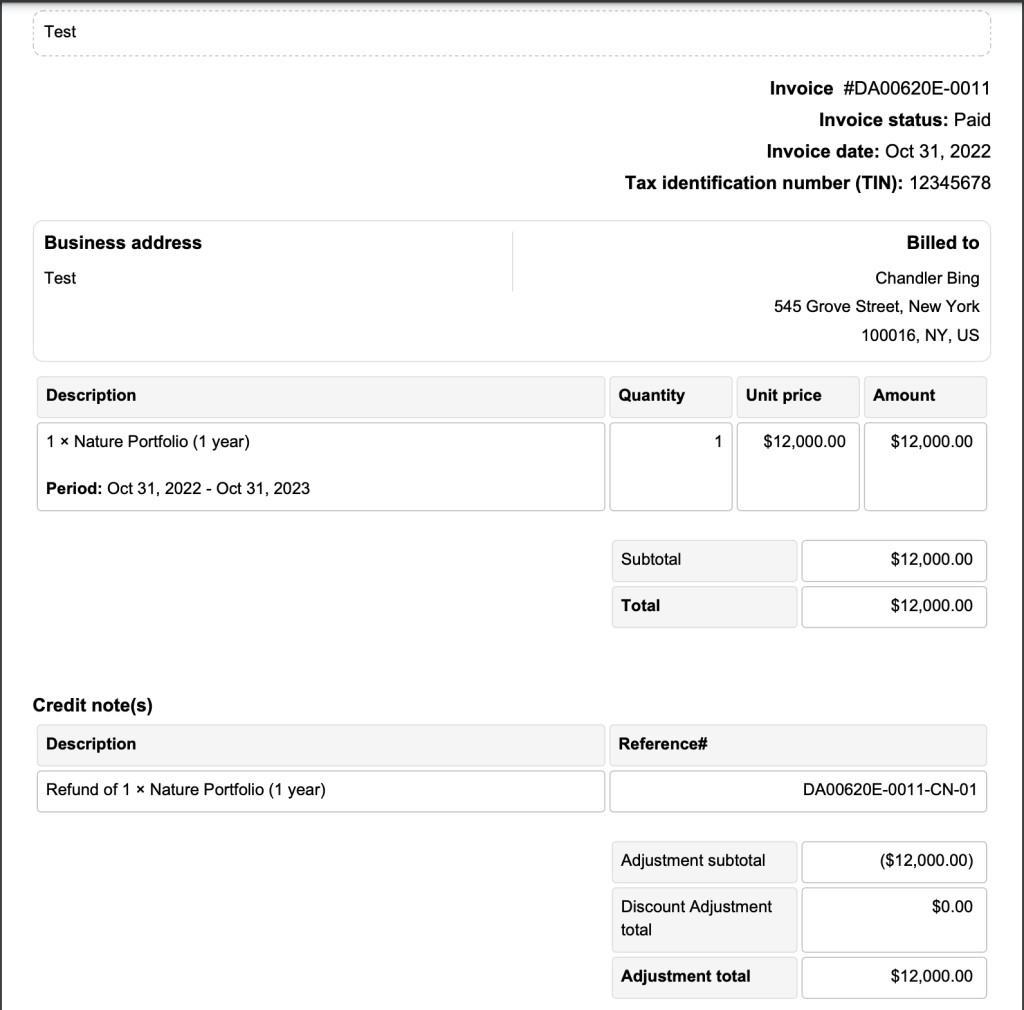 Updates to eCommerce
E-commerce Cost Management
This feature in the e-commerce module allows you to add your purchases and associated costs to the platform.
A cost-per-item field was added in order to calculate your cost, revenue, and profits.
Along with the details of the SKU you created, you can now view:
– Total cost, total quantity, inventory quantity and profit for each SKU.
– Quantities and their associated cost
– Metadata
You can also add quantities and metadata to your SKU.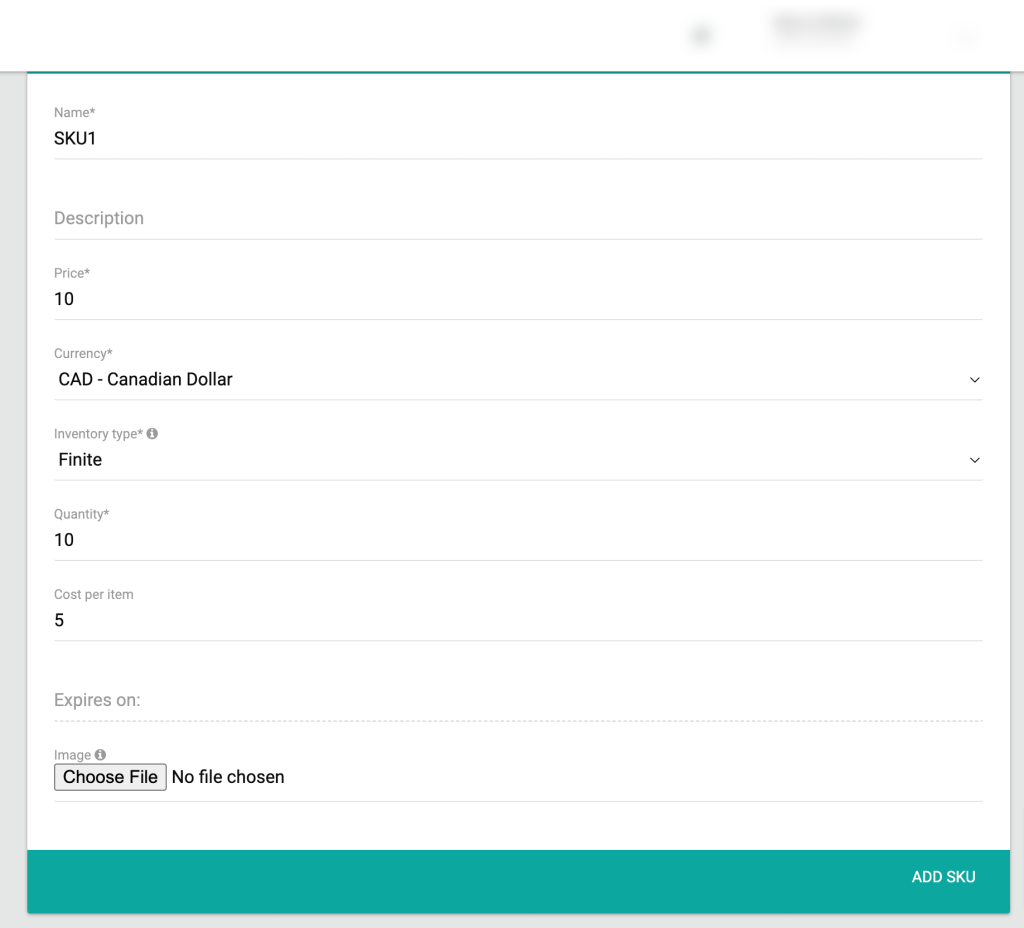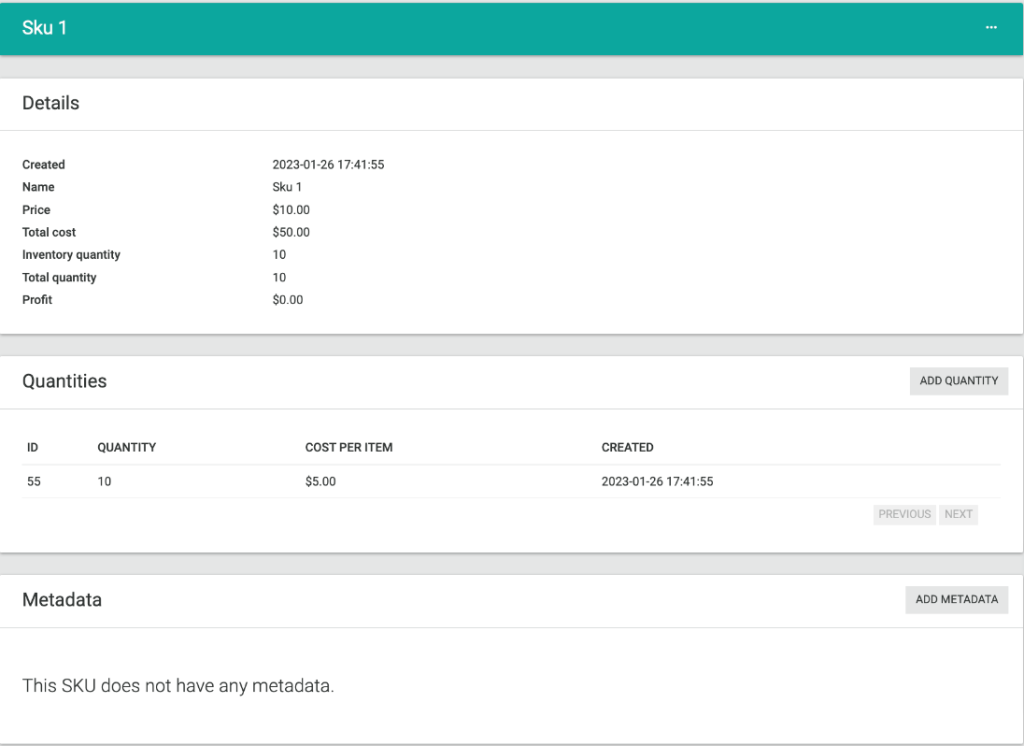 2. e-Commerce Invoicing
We have introduced invoicing tied to e-commerce orders which will provide you with all benefits tied to invoicing; keeping track of your orders, and making sure the payments are accurately reflected.
We are also ensuring all the applicable invoice webhooks are included as clarified in the webhooks section below.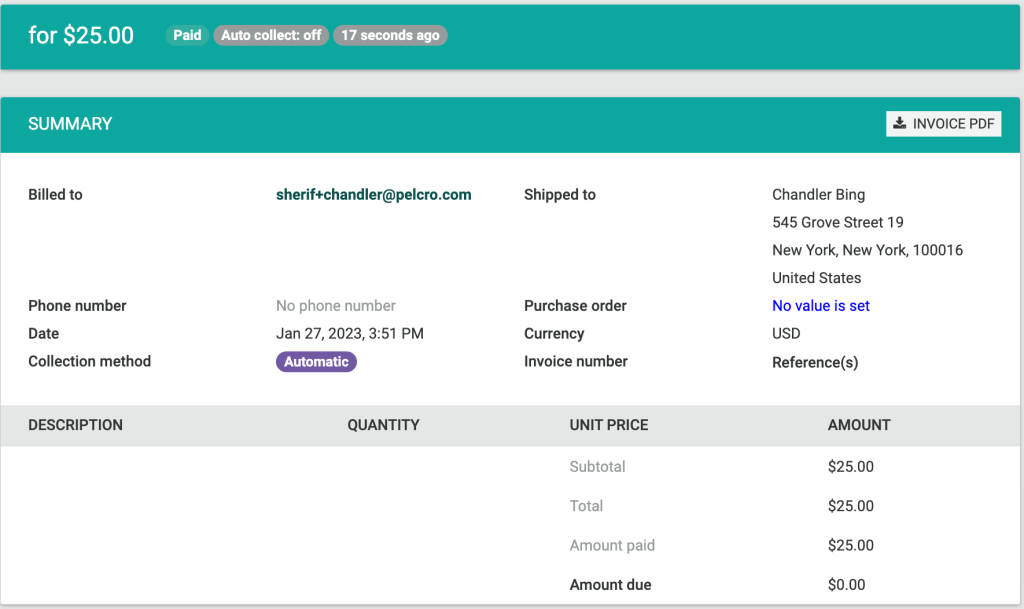 3. Further e-commerce updates:
Renamed Edit Sku to "Update sku" when editing an SKU
Remove the requirement for 'Cost per item' when creating an SKU
4. 0$ SKUs
We now support 0$ SKUs to enable you to create 0$ SKUs in case of free-of-charge e-commerce products for the end-users to purchase.
5.Customers export enhancement
Added Active subscriptions count column which helps you easily identify the customers' active subscriptions count which is beneficial from a reporting and operational point of view.
Learn more about Pelcro
At Pelcro, we aim to provide a better experience for our customers and their subscribers. If you are looking for ways to improve how you manage your subscriptions and memberships, schedule a demo or get started with a free trial today!
Marketing with the end-user in mind, I aim to provide useful tips and tricks to improve the business lives of all that stumble across the Pelcro site.